2021/03/10
Vidrala awarded by the Department of International Trade in Spain for its investment effort in the UK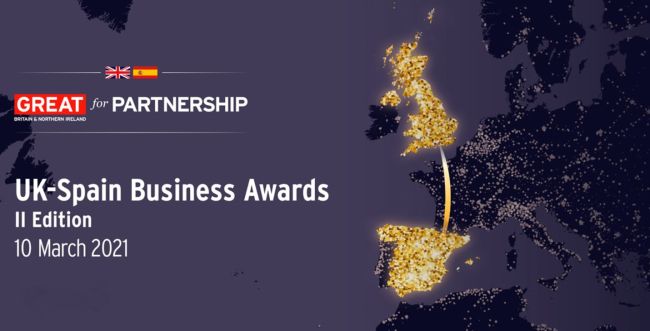 Vidrala, leading producer of glass containers for the F&B industry, has been awarded in the category "Growth in the UK" during the ceremony of the Trade and Investment Awards, organized by the Department of International Trade of the British Embassy in Spain.
This award recognizes the important investment effort made by Vidrala in the UK since the acquisition of Encirc in 2015. Since then, the company has deployed over 150M£ for projects in the UK. One of the most ambitious initiatives in British territory is the programme launched to rebuild the furnaces and equip the production lines with new technology. In the context of this programme, the company developed the biggest glass container furnace in the world in Elton.
Vidrala and Encirc have undertaken a revolutionary trial that has proven that new bottles are able to be made from 100% recycled glass, using only the energy from burning ultra-low-carbon biofuels. As a result, they have successfully created the most sustainable glass bottles in the world.
The UK is a very relevant market for Vidrala. In this sense, the acquisition of Encirc, with aprox. 1,500 employees, represents one of the biggest investments undertaken by Vidrala in the last years. This corporate deal significantly expanded Vidrala's business. Apart from producing glass containers, now it also offers logistic solutions and bottling activities and complementary services of special interest for customers located in remote regions such as Australia, New Zealand, South Africa or California, contributing to improve the costs of logistics and reducing environmental impact.
Carlos Delclaux, chairman of Vidrala said: "I'm thrilled to receive this award and would like to give a very special thanks to the great work carried out by Encirc in the UK, contributing to add value to Vidrala as a group. Due to its great potential, UK is one of the most relevant markets for us. Even in times of Brexit and pandemic, the UK has shown great strength and growth potential. We are very honoured for this award that is to some extent a recognition of our efforts and faith in the UK".
Vidrala is a consumer packaging conmpany. We produce glass containers for food & beverage products and offer a wide range of services that include logistic solutions and botting activities. Our industrial know-how, increasing geographical presence, experience in glass production and our in depth understanding of the needs and processes of our customers, make us a reliable partner for many of the biggest brands in the food & beverage sector. Vidrala's products and services contribute to widen our customer's vision by connecting the consumer experiences to their brands and playing a relevant role in their strategies.
For more information, please contact Katia Ballano o Cristina González-Aller (kballano@llorenteycuenca.com / cgonzaleza@llorenteycuenca.com / +34 91 563 77 22 )
Encirc, part of the Vidrala group, is a market leader in glass container design, manufacturing, bottling and logistics solutions for the UK, Irish and European food and beverages industries. With over 1,500 employees, it operates from its three purpose-built sites in Derrylin, Co Fermanagh, Elton, Cheshire and Corsico, Italy, the company produces more than 3 billion glass bottles and other containers annually, and can fill up to 250 million litres of bulk shipped beverages every year. The integrated group offering means customers benefit from a unique supply chain approach, which includes access to Europe's largest bonded warehouse, significantly shortening the supply chain and delivering considerable cost and environmental savings to customers.