2016/12/21
Vidrala Italia delivers its billionth bottle of Smirnoff vodka to Diageo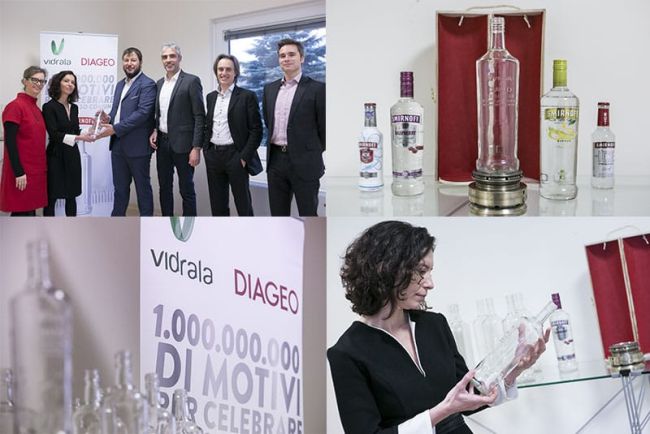 Diageo has a portfolio of world-famous drinks brands and fills the iconic Smirnoff vodka bottle at its plant in Santa Vittoria d'Alba.
To celebrate receiving its billionth bottle produced by Vidrala, representatives of Diageo, Alessandra Arnaldi, ISC Procurement Manager and Simona Giraudo, Supplier Performance Manager, attended the Vidrala Italia facility in Corisco (Milan) and received the glass bottle, which featured a special engraving highlighting the symbolic milestone.
The Vidrala's hosts were Giovanni Cussino, Sales Director of Italy and Export, Roberto Ziarelli, Director of the Vidrala Italia plant and Aitor Peña, Marketing Manager.
This recognition reinforces the close relationship of trust that has been maintained for more than 10 years between both companies. Giovanni Cussino, said: "This billionth bottle represents the path we have walked together, however our focus is on what remains to be done."
On the part of Diageo, Alessandra Arnaldi emphasized the strong collaboration that they have had between both companies.
A presentation was also shared at the event about the future plans of the glass plant, which focused on Vidrala's competitiveness and flexibility to continue giving a high level of service to its customers.