2018/06/18
Vidrala Logistics, In motion for our customers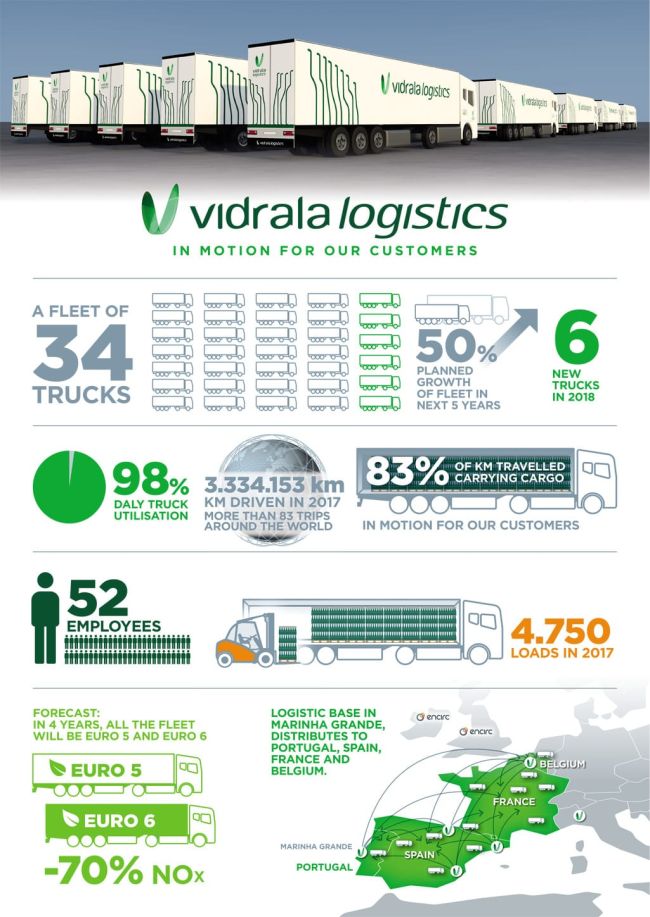 With the creation, in 2016, of the Vidrala Logistics brand, the Vidrala group ratified its commitment to optimize the logistics service to their clients.
The benefits of this effort have become evident through the supply and satisfaction quality feedback received from of our customers. Only during the last year, the transport fleet of Vidrala Logistics, giving priority service to Vidrala's customers, made more than 4,700 deliveries, with an occupancy rate of 98% and having traveled enough kilometers to go around the world 83 times.
As a sign of a non-negotiable strategic approach towards our client and supported by the satisfaction with the results accomplished, Vidrala will redouble its efforts in Vidrala Logistics as of this year 2018.
An expansion plan is launched to increase the fleet by 50%. The vehicles will be renewed with a special focus on sustainability, by incorporating trucks certified by the latest EURO6 standards, which foresee a significant reduction in polluting emissions.
Vidrala is involved in making investments to further improve the quality of the service it provides. In motion for our customers.