2023/08/04
Vidrala starts up and energizes the solar photovoltaic plant at its Barcelona installations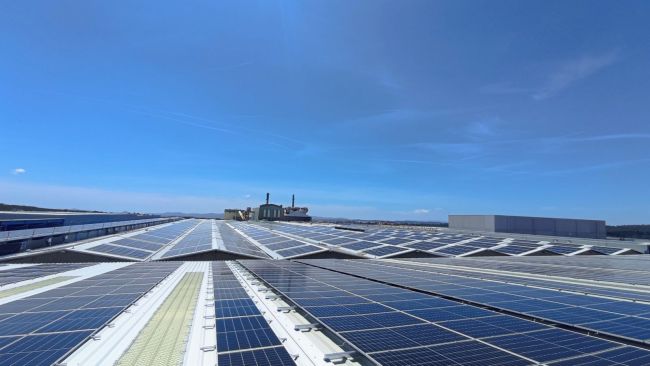 The photovoltaic installation will have the capacity to produce around 8,000 MWh/year.
The new plant will reduce CO2 emissions by 2,000 tonnes per year.
This initiative is part of the Vidrala Group's decarbonisation and energy efficiency plan.
Vidrala, the leading glass container manufacturer, has started the commissioning of its Castellar Vidrio photovoltaic plant with the energization of the new installations at the factory located in Castellar del Vallés, Barcelona. In this way, Vidrala completes the construction project of its photovoltaic self-consumption plant that began in March. The new photovoltaic plant at Castellar Vidrio has the capacity to produce approximately 8,000 MWh of energy per year. This will mean the reduction of more than 2,000 tons of CO2 emissions into the atmosphere per year. The new plant has more than 1,900 photovoltaic modules with a power of up to 6 MWp.
This project is part of the decarbonization and energy efficiency plan implemented by the Vidrala Group, with the aim of reducing dependence on fossil energy, promoting self-consumption and improving energy efficiency at a global level through the study and installation of renewable alternatives. This new installation represents Vidrala's commitment to society and the communities where it operates, as an essential part of its business strategy, as well as its sustainability strategy "Glass Made Good" which focuses on the "4Ps", which refer to people, planet, populations and prosperity as a whole.
This project of self-consumption that Vidrala promotes with Norvento Enerxía, adds to the one implemented by the company in 2022 at the Crisnova plant, located in Caudete, Albacete. The 12 MW installation has already allowed the company to reduce the annual emission of around 12,000 tons of CO2 into the atmosphere.