2016/04/18
Vidrala and the Faculty of engineering of the University of Deusto sign an agreement to boost the competition Master Glass Design Contest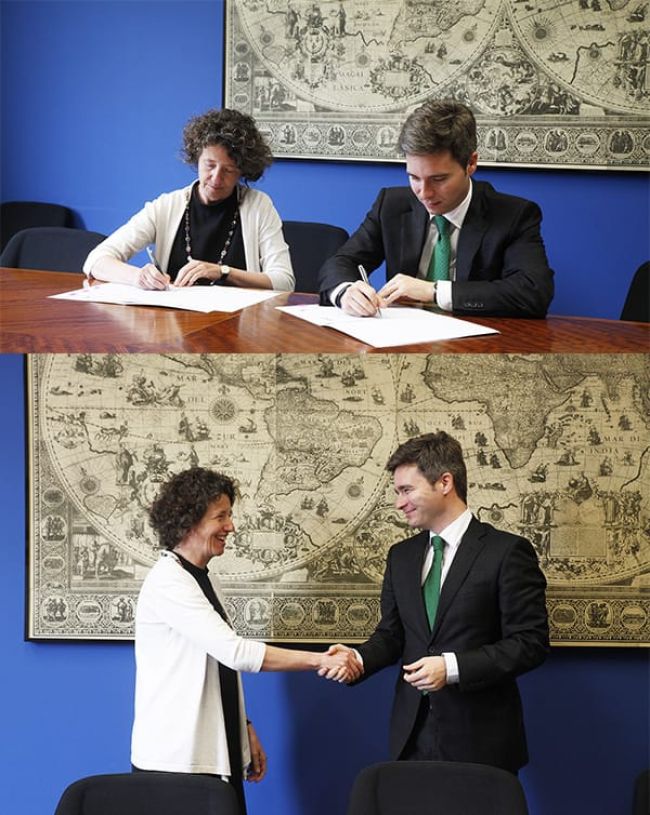 The responsibles for the signing have been Inés Jacob, Dean of the Faculty of engineering, and the head of Marketing of Vidrala, Aitor Peña.
Bilbao, 18 de abril de 2016. La Facultad de Ingeniería de la Universidad de Deusto y Vidrala han rubricado hoy un acuerdo para la coorganización del primer concurso de diseño de envases de vidrio, Master GlassDesignContest, puesto en marcha por la empresa alavesa con motivo de su 50 aniversario.
La Decana de la Facultad de Ingeniería, Inés Jacob, y el Responsable de Marketing de Vidrala, Aitor Peña, han sido los encargados de firmar este convenio hoy en la Universidad de Deusto.
Tras la firma, los representantes de ambas entidades, junto con el Director de Diseño de Producto, AsierEtxebarria, han realizado una visita guiada al FabLab, el centro de creatividad, innovación y desarrollo para el diseño de nuevos productos, servicios y experiencias, impulsado por la Facultad de Ingeniería y que está estrechamente vinculado con el Grado en Ingeniería de Diseño Industrial.
Master GlassDesignContest es un certamen que busca innovación, originalidad y viabilidad, dentro de un proceso sostenible y eficiente con el medio ambiente como es el de los envases de vidrio. Se podrá participar, hasta el día 15 de junio, en tres categorías:
Botella para vinos
Bote/tarro de conservas
Botellín (cerveza, refrescos, zumos, aguas, lácteos…)
El premio consistirá en un viaje a Milán con visitas a destacados centros de diseño además de a la fábrica que Vidrala tiene en Corsico (Italia).