History
1965 - Beginning
Since it was installed in Llodio, (Alava – Spain) in 1965, Vidrala Group has kept on growing, incorporating the most recent technological developments to its manufacturing processes and finished product control, becoming an obligatory reference in our sector.
1966 - Creation of Vidrierías de Álava S.A
Creation of Vidrierías de Álava S.A. Its manufacturing activity began in 1.966 with one furnace, two machines and a yearly output of 25,000 tons with only a dozen models.
1967 - Exportations
First exports.
1977 - Press and blow production
The beginning of press and blow production of light bottles enabled Vidrala to become the technological leader of the national market, reducing the average weight of its containers.
1981 - 130.000 Tn.
Production reached 130,000 tons per year, and the company began to transform its furnaces, obtaining an energy saving of 50%, although productive capacity is maintained. The corporate name was changed to Vidrala S.A.
1985 - Vidrala on stock markets
Vidrala shares were successfully launched on the stock markets of Madrid and Bilbao.
1989 - Crisnova
Crisnova, a 100% subsidiary of Vidrala, started its activity in Caudete (Albacete) with one furnace and a production capacity of 95,000 tons per year. Vidrala Group thus achieved an annual capacity of 225,000 tons with three melting furnaces.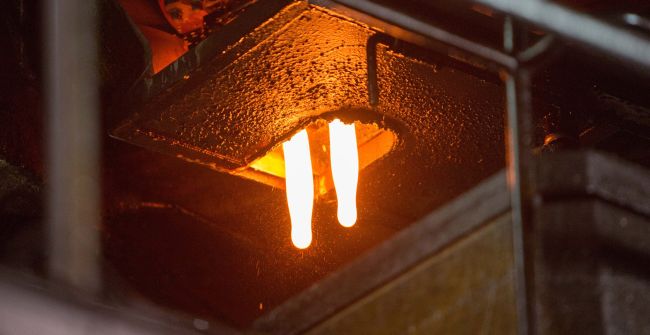 1995 - Third Aiala's furnace
The third Aiala's furnace was built up, increasing annual production capacity by 110,000 tons, totalling 340,000 tons per year for the Group.
1998 - Second Crisnova´s furnace
The second Crisnova´s furnace came into operation, and the VIDRALA Group reached a production of some 450,000 tons per year.
2001 - Strategic Plan
Approval of the Strategic Plan of corporate growth.
2003 - Acquisition of Ricardo Gallo
Acquisition of Ricardo Gallo Vidro de Embalagem, a 100 years old Portuguese glass manufacturer located at Marinha Grande starting the internationalization of the Group. Overall production capacity reaches 610.000 tons per year.
2005 - Castellar and Corsico Vetro S.r.l.
Acquisition at the beginning of the year of two plants of O-I, one from BSN Glasspack at Castellar del Vallés (Spain) and one from Avir at Corsico (Italy), as a result of the strategic plan and reaching a production capacity of 805.000 tons for the Iberian Peninsula and 950.000 tons for the whole Group.
Valvitrum S.A. and Corsico Vetro S.r.l. are put into operation.
2006 - Creation of Vidrala
Creation of Vidrala like head of the Group formed by the productive plants of Aliala Vidrio, Crisnova Vidrio, Castellar Vidrio, Gallo Vidrio and Corsico Vetro and launching of the new corporate image.
2007 - Manufacture du Verre SA
Acquisition of La Manufacture du Verre S.A. a glass plant founded in 2000 after the acquisition of Verlipack production facilities.
2012 - natura Range
Launch of the natural range of sustainable lightweight bottles.
2015 - Acquisiction of Encirc Limited
Vidrala becomes the 4th European player offering a complete service including not only the manufacture of glass containers, but also filling processes and logistics services.
2016 - First MasterGlass design contest edition
Vidrala launches its own first contest of design for glass bottles, under the name MasterGlass Design Contest 2015. It is organised in cooperation with the University of Deusto Bilbao for Engineering. EIDE is also participating into this initiative.
2017 - Acquisiction of Santos Barosa
Vidrala acquires Santos Barosa, manufacturer of glass containers that operates a large production center located in the town of Marinha Grande, Portugal, from where it produces more than 1,600 million containers per year. The integration of this business complements Vidrala's position in the Iberian market, leading to benefits for Vidrala's customers, employees and shareholders.
2019 - Sale of MD Verre
Vidrala completes the sale of its glass container manufacturing activity in Ghlin (Belgium) - carried out through the companies MD Verre S.A. and Omega Immobilière et Financière S.A.